Book your 4th of July Vacation | Los Angeles, CA | Luxury Wellness Resort
April 11, 2018
GUIDE TO THE BEST RESORTS IN CABO
GUIDE TO CABO LUXURY HOTELS

---

Los Cabos is a special destination where the mountains, desert and the sea converge- located in Mexico's Baja California Peninsula. You can find what is known as "Land's End" at the southern most tip of the peninsula where the Sea of Cortez meets the Pacific Ocean, marked by the famous arch known as 'El Arco.'
It encompasses the towns of Cabo San Lucas and San Jose del Cabo and offers a wide array of activities such as golf, sport fishing, whale watching, diving, snorkeling and much more. The charming town of Cabo San Lucas features a great culinary scene, nightlife and entertainment options. 
Once you've visited Cabo, I can almost guarantee you'll want to return. There is something special about it that will leave you wanting more. Maybe it's the waves crashing into the rocks, the contrast of the desert and the ocean or the local culture and cuisine- or the combination of it all.

This past May we had the chance to visit a few of the top luxury resorts in Cabo including Esperanza, The Resort at Pedregal, Chileno Bay and Montage. We'll share some of the highlights from these resorts as well as important details for each property. Each is unique and has something special to offer. Read on to discover some of the top luxury hotels in Cabo San Lucas!
THE RESORT AT PEDREGAL
Images Courtesy of The Resort at Pedregal
Resort Overview
The Resort at Pedregal is located at the southernmost tip of the baja peninsula, carved into the side of a cliff facing the ocean. Sweeping ocean and marina views, extraordinary culinary offerings and a world class spa are just some of the highlights at the resort.
The view of the ocean upon arrival as you are coming through the tunnel will take your breath away. The decor in the rooms will give you a strong sense of place. Authenticity and personalized services are defining attributes to the luxury experience at the Resort at Pedregal.
Highlights
Every room: ocean views & private plunge pool
Easy access to downtown Cabo San Lucas
Personal concierge for guests
Infinity pool overlooking the ocean
Resort Facts
105 Guest Rooms including 29 suites
3 Resort Pools including an adults only pool
4 Dining Options, locally sourced menus
---
ESPERANZA, AN AUBERGE RESORT
Images Courtesy of Auberge Resorts
Resort Overview
Arriving at Esperanza, the dramatic cliff-side setting, ocean breeze and salty air will instantly relax you. It is the only completely private beach resort in Cabo as it is tucked between 2 bluffs preventing any access from either side. At Esperanza there is an adults only side which features an 3 tiered infinity pool as well as a family side with multiple pools and large villas.
The spa and wellness offerings are extensive making it the perfect getaway if you are looking to relax, recharge and renew. The famous Cocina del Mar restaurant is also located at Esperanza, where you can dine oceanside enjoying the sunset and crashing waves.
Highlights
Separate areas for Adults Only & Families
Top Notch Service at Every Turn
Signature Restaurant Cocina del Mar
Spa Suites with Jacuzzis on Terrace
Resort Facts
92 Guest Rooms, Suites & Villas
6 Restaurants, 2 Poolside Bars
5 Outdoor Pools
---
Chileno Bay
Images Courtesy of Auberge Resorts
Resort Overview
Located on one of the best spots for snorkeling and watersports in Los Cabos, Chileno Bay Resort is uniquely situated on Chileno Bay. Guests can choose from a wide variety of water activities or lounge in the 3 -tiered, 450 ft. infinity pool. The guestrooms, villas and suites are positioned strategically for optimal ocean views.
The resort boasts an impressive gym and wellness activities as well children's activities and daily programs. Unwind at the world class spa or enjoy some taco's and tequila at the beach side restaurant. Don't miss brunch at COMAL where you can savor regional specialties, rosé and our favorite, Nitro Lavender Cold Brew Coffee!
Highlights
3 Tiered Infinity Pool
Fire Pits with Ocean Views
Best Sunday Brunch in Cabo
State-of-the-Art gym & Wellness
Resort Facts
92 Guest Rooms
3 Tiered Infinity Pool with Family Section
2 Restaurants, Signature Drink: Chilenito
---
Montage Los Cabos
Images courtesy of Montage
Resort Overview
At the newly opened Montage Los Cabos, every guestroom has an oceanview of the beautiful and serene Santa Maria Bay, a terrace with a daybed and dining area and an outdoor shower so you can be assured that no matter which room option you choose- you are guaranteed to enjoy it!
The architecture and design of the resort beautifully compliments it's surroundings. Two mountains enclose Santa Maria Bay so that you get the best of both landscapes. The swimmable beach which is quite rare in Cabo allows you to wade in the water or enjoy a plethora of water sports activities.
Highlights
Every room: Ocean View & Outdoor Shower
Located on Santa Maria Bay
First International Montage location
Resort Facts
122 Guest Rooms, Suites & Casas
Multi-level 20,000 Sq. Ft. Pool
Golf, Spa, Watersports, Kid's Programs
---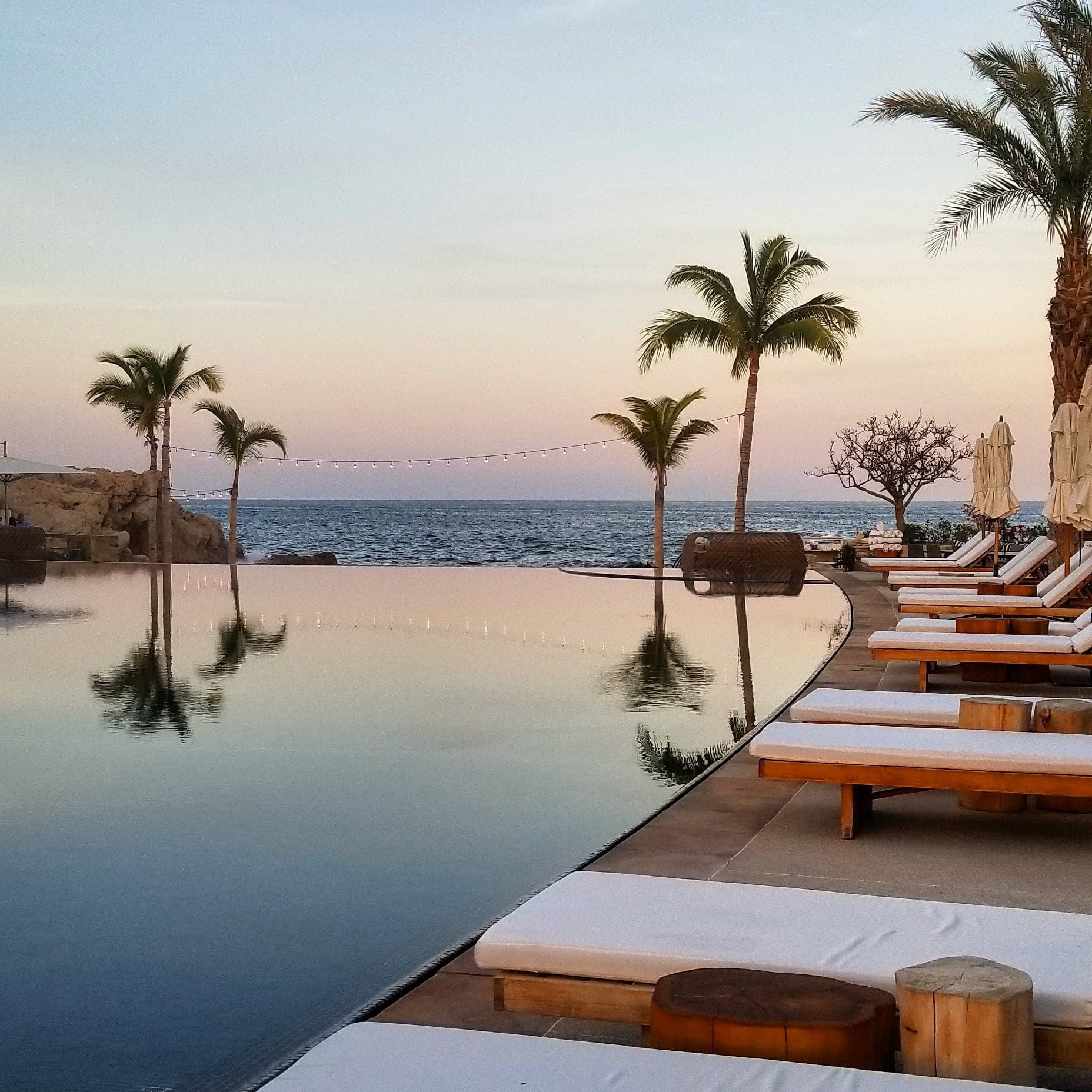 There is no shortage of luxury hotels in Cabo for every type of traveler based on your unique preferences. Each has different highlights and caters to different needs and styles of travel. One thing all of the resorts mentioned in this post have in common is an extremely high level of service. From the moment you arrive you'll feel well taken care of and catered to. 
In a follow up post about Cabo San Lucas, we'll highlight more of our personal experiences, some great activities suggestions and our absolute favorite restaurant in the region.
We would love to have a discussion to help you make the best choice for your next Cabo vacation.. contact us to chat!